About SafeMinds
Our Goal
Our goal is urgent: to end the autism epidemic by advancing environmental research and effective treatments. Autism is a national health crisis effecting nearly 2% of American children. The increase in autism shows no sign of abating. Autism is a spectrum condition. While some have little or no disability, most of those with autism live with poorly treated disability and serious, sometimes life-threatening medical conditions. The cost to society is now estimated at $268 billion.
Autism with disability can be prevented. The vast majority of new autism cases are due to worrisome changes in our environment – growing chemical exposures, poor nutrition, alterations in our biome, expansion of medical interventions, indoor lifestyles. These changes are modifiable. The autism epidemic can be reversed by accelerating environmental research and demanding reform in public health policies.
Autism severity can be resolved. The disability and health impairments that accompany autism can be addressed even as the person with autism is celebrated. Effective interventions and supports exist today and more are being developed. Those with autism can lead safe, healthy, productive and fulfilling lives. Parents, self-advocates, health practitioners and policy-makers need to know about the interventions that work to speed their adoption.
We refuse to accept the current autism paradigm that permits an unchecked epidemic and widespread suffering. Our model embraces risk-taking and experimental approaches. to accelerate breakthrough research and practices that will make an immediate difference. The crisis of autism demands this approach.
Who We Are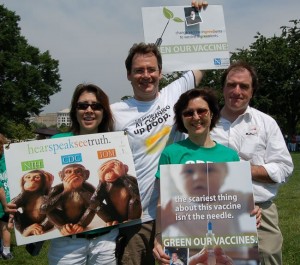 SafeMinds is a 501(c)3 non-profit grassroots organization comprised of parents, self-advocates, scientists, clinicians, government relations specialists, communications professionals and non-profit experts. Most of our work is carried out through the volunteer efforts of our board and committee members. We operate with a small paid staff so most of our dollars can go to programs.
Click here for our Leadership Team.
SafeMinds was started by parents and we maintain a strong family voice and sense of urgency in everything we do. Parents and self-advocates populate our board and committees along with professionals. We pro-actively network and collaborate with high risk/high reward scientists, clinicians, policy-makers and organizations who are dissatisfied with the status quo.
What We Do
SafeMinds is focused on resolving the autism epidemic. We work to prevent new cases and improve the lives of those who have autism today. To this end, SafeMinds is dedicated to:
Identifying effective treatments that will help those affected with autism today;
Finding the modifiable causes of the autism epidemic that will lead to prevention and decrease autism prevalence;
Discovering how today's environment interacts with human biology to lead to the current high rates of autism; and
Using this scientific knowledge to help parents, self-advocates, practitioners and policy-makers make choices to address the epidemic of severe autism.
We operate across three program areas: scientific research, advocacy, and education and outreach.  Our major initiatives are The Autism Epidemic, Autism Etiology & Prevention, Biological Mechanisms, and Safe Bodies.
Our Impact
SafeMinds has sponsored $1.5 million in highly targeted research that examines the connection between environmental factors and adverse neurological outcomes.  We also produce our own original research and reviews, as well as white papers on critical topics. See our list of supported projects.  Autism can be a controversial subject, filled with misinformation. Our research investments are designed to create the evidence base that will change the paradigm – from tracking the epidemic increase, to identifying and validating protocols that prevent autism, to giving parents the tools they need to reduce autism complications like anxiety or GI distress.
SafeMinds social media tools serve as the destination for those seeking information about autism's environmental connection by providing timely, interactive, and accessible information. We reach parents of affected children, autism self advocates who want to self treat, parents-to-be who wish to have the healthiest outcome for their baby, health professionals looking to prevent autism or to ameliorate the severity of the disabling conditions of autism for their patients, the scientific community seeking to find the non-genetic contributors to autism and effective treatments, and policy-making and funders.
In 2015, SafeMinds began its Safe Bodies campaign by helping to found the Autism Safety Coalition (ASC).  This group of national advocacy organizations promotes national policies that will increase the public safety of people with autism and other developmental disabilities.  SafeMinds has helped to coordinate a congressional briefing on Capitol Hill on the wandering/elopement issue, and has met with congressional staffers to educate them on the wandering problem in our community.  Its members will continue to educate elected officials and the general public on this urgent issue as part of the ASC, and on suicidality and seizures as part of SafeMinds dedication to addressing the potentially-deadly medical conditions that co-occur with autism.
Our History
When a handful of parents of children with autism spectrum disorders (ASD) founded SafeMinds in 2000, their goal was to raise awareness and support research regarding the associations of environmental toxins and the development of neurodevelopmental disorders such as autism.
The founders first deliverable was a definitive work on the link between mercury and ASD, which showed that autism symptoms mirrored those of mercury poisoning.  This effort, started in 1999 and completed in 2000, was key to educating the public and elected officials on the dangers of thimerosal, the form of mercury once pervasive in vaccinations, and still present in the flu and tetanus shots in the US. SafeMinds' resulting report, "Autism:  A Novel Form of Mercury Poisoning"  is still recognized as a seminal document on the discourse on mercury exposure and toxicity and its effects on public health.
Over the years, members of SafeMinds have testified before Congress (2000, 2004), published peer-reviewed scientific papers, participated in Institute of Medicine's reports, partnered with the National Institute of Environmental Health Sciences (NIEHS) to sponsor a symposium, served on the National Institute of Health's Interagency Autism Coordinating Committee, participated in the Department of Defense's congressionally-mandated Autism Spectrum Disorder Research Program, as well as many other critical autism-related efforts. Read our complete history of major accomplishments here.
SafeMinds has and will continue to serve as the bridge between science and public policy.  It has  served as a beacon of hope for families searching for well-researched answers.  For more information, and to be kept abreast of SafeMinds research, advocacy, education, and outreach activities, sign-up for our e-newsletter HERE.  To make your tax-deductible donation to SafeMinds, click HERE.