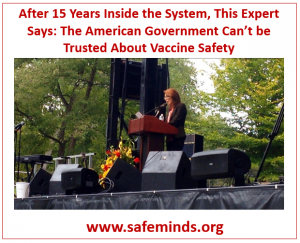 SafeMinds co-founder and board member Lyn Redwood spoke at last weekend's Truth, Transparency & Freedom Rally.  Read her moving account of decades of Federal inaction on vaccine harms – and her personal triumph helping her own son lead a successful life beyond autism.
---
My name is Lyn Redwood. I have a master's in nursing and worked for years as a nurse practitioner in obstetrics, gynecology, and pediatrics.  I co-founded the nonprofit organization SafeMinds in 2000 and the National Autism Association in 2003, and I have been fighting on behalf of families affected by autism for over 15 years.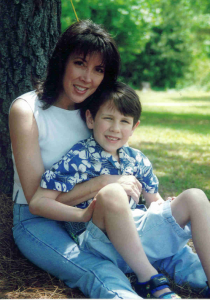 My youngest son weighed in at almost 9 lbs at birth. He was a strapping, happy baby who smiled, cooed, walked, and talked all by one year.  Shortly after his first birthday we started to lose him.  Suddenly my active, healthy baby was sick all the time. He had back-to-back colds, ear infections, and even strep throat. All he wanted to do was to sit in front of the TV and watch the Disney movie, "The Fox and the Hound," over and over again. And he would cry inconsolably if you interrupted his routine.  He stopped interacting with us, he refused to eat most foods and suffered intermittent bouts of diarrhea. He also lost all the words he had been saying and the twinkle in his eye was gone too.  Something was horribly wrong with my beautiful baby boy.
At first he was diagnosed with a global receptive and expressive speech delay. Typanostomy tubes and aggressive speech therapy did nothing to help him recover his speech. Then he was diagnosed with autism.
That was 21 years ago.  But sadly, my story has become the same story as hundreds of thousands of parents throughout our country who have watched their children literally disappear overnight.
How many of you here today have a child who had been diagnosed with a ADD/ADHD, a learning disability or autism?
I'm here today to tell you that after years of research and advocacy, I have come to the belief that our children have been harmed.  And that our federal agencies responsible for protecting the health of our children, are aware of this harm, are complicit in the harm, and are doing nothing to stop it. 
That's a really strong statement, right?  So let me explain how I got to this place.
My husband and I were told autism was a genetically based psychiatric disorder. But no one in my family or my husband's family has either autism or asperger's, and the fact that our son had been completely normal at birth, developed on schedule the first year of life, and then regressed, just didn't make sense to us. Something had happened to our son.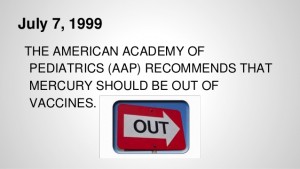 In July of 1999, I received notification that some vaccine manufacturers used a mercury based preservative called thimerosal in their vaccines, and that as a precaution; the use of thimerosal was being phased out. At the same time the American Academy of Pediatrics issued a report saying there was no need to test mercury levels in infants, since exposures were quite low and there was "No evidence of harm."
But the more my husband, who is a board certified emergency physician with formal training in toxicology, and I thought about this statement, the more curious we became. It didn't make sense.  How did the AAP know that the levels of mercury, a heavy metal much more toxic than lead was of no significant consequence when no child had been tested? Without looking for evidence of harm how can one conclude that no harm occurred?
There is no evidence of anything you refuse to look for! That is when I did basic 8th grade math. I calculated my son's exposure to mercury from his vaccines at 2 months of age using EPA guidelines and his body weight. He had received 125 times his allowable exposure on that one day! These large injected bolus exposures to mercury continued at 4, 6, 12 and 18 months. I also discovered that injections I received during the pregnancy and hours after the delivery because my blood type was RH negative, also contained huge amounts of mercury.
Perhaps this was a coincidence? Perhaps this was not the reason he had slipped into autism? There was no way to know since the exposures had taken place years ago. But then I remembered that I had saved a lock of his hair from his first haircut when he was 20 months old. It had been tucked away in his baby book for safe keeping. Sadly, I took it out and mailed it to a laboratory for analysis, knowing I would never get it back. But I had to know. The results confirmed my fears: Our son had highly toxic levels of mercury and aluminum, both present in his infant vaccines and now in his tiny body.
During my pregnancy I had done everything right, avoiding anything that I thought might pose any  harm to my developing baby.   I spent hours researching the safest car to drive, the best crib to buy, and the safest car seat to use, but I never thought that I needed to research vaccines.  I trusted that someone had already extensively done that research for me.  Surely the vaccine developers, the FDA, and the CDC had thoroughly researched vaccines to make sure they were safe and effective for my healthy baby boy, right?
WRONG. 
I believed in public health and the importance of vaccines. I was a nurse who had in the past given vaccines. I did not want to believe this. But once I started reading the science, I knew it was true.
Mercury is a cumulative neurotoxin, meaning it can take months for a significant quantity to accumulate before symptoms become apparent.
After I recovered from the initial shock, my first thought was how can I help repair this damage in my son, and how can I prevent this from ever happening to another child again. Along with a handful of other likeminded parents whose children had also been harmed by mercury, we published an 80 page literature review which correlated the symptoms of mercury toxicity and autism all the way down to the cellular levels of brain pathology.
We documented that the number of children being diagnosed with autism had increased in a stair step fashion with each new thimerosal containing vaccine added to the immunization schedule.   We wrote up case studies of children with autism who had elevated levels of mercury who had marked improvement in their symptoms of autism after undergoing chelation therapy. And then we scheduled in person meetings with top officials at FDA, CDC, and NIH to share our research and concerns. Our thinking was that once our Federal agencies were made aware of the harm that had occurred to our children from exposure the mercury in vaccines they would act immediately to stop it!
WRONG AGAIN!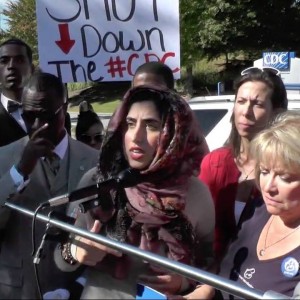 During our meeting with the FDA we filed a formal request for a class one recall of all remaining thimerosal containing vaccines.  The FDA shrugged their shoulders and responded that there was no "conclusive" data supporting risk of injury to issue a recall.  They told us that thimerosal was scheduled to be fully investigated by the National Toxicology Program, to give them more information as to what levels of exposure would be allowed, since no federal guidelines exist for ethyl mercury exposure.
But once the investigation started, and they did not like what they were finding, the FDA stepped in and requested that toxicological investigation into thimerosal be deferred because it was being phased out anyway therefore, it was no longer a high priority for research.  Read our letter requesting they reinstate the investigation into thimerosal here and their response here.
The FDA HALTED  THE  STUDY OF THIMEROSAL DESPITE THE FACT THAT WE HAVE OVER 100 PHARMACEUTICAL PRODUCTS, INCLUDING VACCINES, —there is still mercury in the multi-dose flu shot, generic tetanus shots and the meningococcal vaccine—which are STILL BEING GIVEN TO AMERICANS AND OTHERS AROUND THE WORLD.
Thimerosal has never been subjected to toxicological testing because it was developed before the FDA required such testing and its use was Grandfathered in. So today, 15 years later, we still do not know what—if any—amount of thimerosal can be safely injected into a pregnant women, infant or child, despite that fact that it happens every day in this country and throughout the world.
We turned to CDC next and voiced our concerns in a joint meeting with 20 plus members of the agency and handful of parents, physicians, and scientists. Again, they tried to reassure us that our concerns were unfounded. We were told that they had looked into the issue using the vaccine safety datalink program, which is what they use to monitor vaccine safety in over 400,000 children enrolled, and found no associations with exposure to thimerosal and any adverse health outcomes, including autism.
In response, we filed a freedom of information act request for all their research on thimerosal.  It was several months and a few thousand dollars later that we started to receive documents.   And what we found was NOT what we had been told.  The CDC HAD in fact found statistically significant and dose dependent relationships between exposure to thimerosal in vaccines and ADD, ADHD, autism, speech and language delays, tics, sleep disorders, and a plethora of neurodevelopmental delays in general.
They were so concerned that the CDC held a private meeting with industry and other bureaucratic stakeholders at the Simpsonwood retreat right here outside of Atlanta to discuss how they would handle the findings.  I started reading the minutes to this meeting at 10 PM at night thinking it would help me to fall asleep.  At 5 AM I was still awake and reeling with anger as to how a doctor at this meeting had announced that he did not want his newborn grandson to receive any of these vaccines, but the CDC would not consider that same policy for the thousands of infants who would continue to be injected with mercury.  Access the Simpsonwood Transcript here: Part 1 – Transcript  Part 2 – Appendix.
Rather than take swift and aggressive measures to eliminate all exposures to thimerosal in children, the CDC would re-work the data and rewrite the study until all statistically significant correlations between thimerosal and neurological injury were wiped away. Their final conclusions – the message they would proclaim to the public through the media- was that there was no evidence of harm from the use of thimerosal in vaccines given to children.
Now do you see why I have stopped believing that our government officials have our children's best interests at heart?
That would be enough, but there is more.
We also met with several of the Directors of the National Institutes of Health asking that they please consider conducting research on vaccines and the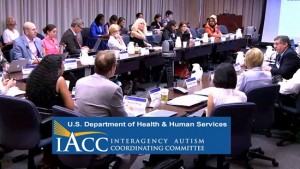 development of autism. A few years later I was appointed a public member of the NIH Interagency Autism Coordinating Committee. One of the first tasks of the committee was to create a strategic plan for autism research.  I was successful in having a research objective included in the strategic plan to investigate the link between the development of autism and vaccines.   It was voted on and approved by the committee.
But before the ink was dry, the Chairman of the committee informed us at the next meeting that concerns had been voiced about conducting this research because NIH is an agency under Health and Human Services, and HHS was listed as the defendant in over 5,000 cases pending in the Vaccine Injury Compensation Program.  All the federal members on the committee, which outnumbered the public members like myself, then voted to remove this objective from the plan, except one agency, The Eunice Kennedy Schiver Institute of Child Health and Development who declined to vote.
So the reality is, the United States government refused to allocate money to research the link between vaccines and autism because the data it would collect could then be used against the United States government to compensate families that have been injured by vaccines!
Some people dismiss the idea that the government is blocking research as "conspiracy theory" or "paranoia." I wish it were. I wish the fox were not guarding the hen house. But that is not the case.
I could not have imagined 15 years ago that our government agencies would have failed to take aggressive action to get the mercury out of vaccines and protect our nation's children. And that instead they would focus their energy and resources on avoiding or hiding the truth and in doing so undercut the public's trust in vaccines, while continuing to put babies at risk for neurological injury.
I could not have imagined that despite the commitment made by these agencies to remove mercury from vaccines in 1999, that they would instead make the recommendation a few years later that all pregnant women, infants and young children receive annual flu shots that contain toxic levels of mercury and defy the recommendations made by the Institute of Medicine in 2001 that these sensitive populations not receive any exposure vaccines containing thimeosal.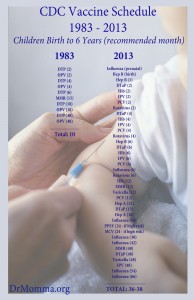 I could not imagine that the CDC would continue to add even more vaccines to the already heavily crowded schedule and not be concerned about how much aluminum, which is still in a majority of infant vaccines, babies are receiving. One doctor at the Simpsonwood meeting acknowledged concerns about aluminum in vaccines stating, the potential for aluminum and central nervous system toxicity is established, To think there isn't some possible problem here is unreal."
I could not have imagined that states would take away a parents right to refuse a vaccine for their child, abolishing our right to make medical decisions for our children as a new law now does in California.
Autism rates continue to rise. The CDC and the FDA are now repeating history: making the same mistake with cumulative exposure to the known neurotoxin aluminum as they made with mercury and completely ignoring the scientific evidence that shows that administering Tylenol or any form of acetaminophen at the time of vaccination inhibits the body's natural ability to detoxify environmental chemicals and heavy metals.
But instead of making safer vaccines, and BANNING dangerous metals like mercury and aluminum from pharmaceutical products, our government officials DENY, OBFUSCATE, AND LIE both to the public and to themselves.
So what are we to do now to protect our children since are federal agencies have failed to listen?
The CDC will not tell the truth, but parents of children who have been harmed will!
That is why I am here today.  And I bet you that is why many of the parents of children who have been harmed by vaccines are here today too.
Even though the science has been blocked, studies have been manipulated, the data has been massaged, there is still enough good science and hard evidence linking vaccines to neurological dysfunction that no one who takes the time to read the science can ignore it anymore.
And it is our job to pass along to these new parents the knowledge we have amassed.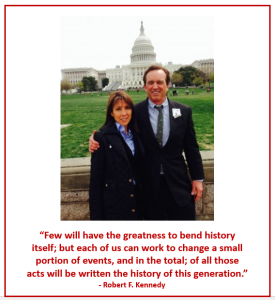 Robert F. Kennedy said, "Few will have the greatness to bend history itself; but each of us can work to change a small portion of
events, and in the total; of all those acts will be written the history of this generation."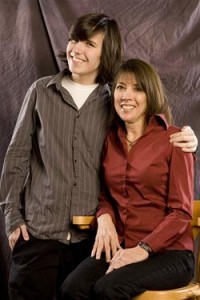 Today we are part of that history.  We are the generation that exposes the truth and protects our children, and all children, from harm.
And to those parents who are here today who have a child that has been injured…
Don't let anyone tell you that there is no hope for your child.
My son is in college now and working on a degree in animation. He lives in an apartment with three friends and is healthy, happy, and thriving. He has recovered from mercury toxicity and all his symptoms of autism have slowly faded away.
Our nation can recover too.
The time to start is now.
Thank you.
---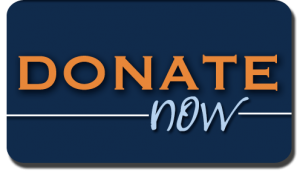 HOW SAFEMINDS IS HELPING
Bringing matters like these to your attention is one example of how SafeMinds is helping create a safer world for our children.  You can help us continue our work by donating to our Policy and Justice Fund, our Making a Difference Research Fund, or our Parent and Family Education Fund, or by contacting us to volunteer.