By Eric Uram, Executive Director, SafeMinds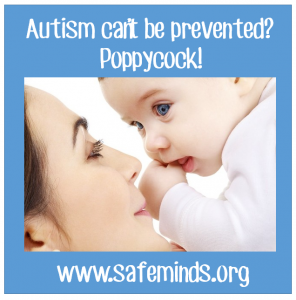 Fact: We have a government health system that spends more money on adult urological disorders (Viagra anyone?) than autism.
Fact: We have a neurological disorder in the United States that now affects 1 in every 42 boys and 1 in every 189 girls. The science is emerging and utterly distressing: we're in the midst of an autism epidemic.
Fact: Some medical professionals and so-called "scientists" are deceiving you about the causes of and the ways to prevent autism.
Fact: Autism triggered by environmental causes can be prevented.
American doctors may be unknowingly contributing to increases in autism. Follow all the rules of the current medical establishment and you could run a terrible and unacceptable risk that your child will be neurologically damaged, perhaps for the rest of his or her life.
A fascinating study came out a year ago last July in the peer-reviewed North American Journal of Medicine and Science by Dr. Elizabeth Mumper, M.D., one of the nation's most knowledgeable autism experts and researchers.
You did not read about it in the mainstream media. You did not learn about it on TV. Your pediatrician may not be aware of it either.
But Dr. Mumper's study is a crucial and important contribution to our growing understanding of the environmental factors triggering autism.
After an extensive and exhaustive literature review, Dr. Mumper began implementing what some people would consider "alternatives" into her medical practice, modifications based on the best science and best available evidence. Her retrospective study analyzes the results of this alternative protocol.
The protocol included:
✔reducing exposure to environmental toxicants
✔ increasing breastfeeding duration
✔ promoting beneficial gut flora composition
✔ improving nutrition
✔ avoiding acetaminophen (Tylenol)
✔ delaying some vaccinations (no hepatitis B at birth, no early rotavirus, and no influenza during pregnancy or infancy)
✔ avoiding antibiotics
Autism rates among families of the 294 children who followed Dr. Mumper's advice? Zero, zilch, none.
Autism rates expected? Approximately six.
This is a small study, of course, and Dr. Mumper herself calls the results "modest."
Other physicians have instituted measures as well. Pediatrician Dr. David Berger, MD FAAP, has been using a similar protocol for over a decade. He explained what he has seen during that time, "Since I began using these strategies 10 years ago with families, to the best of my knowledge, not a single child born into his medical practice has gone on to develop an ASD. Furthermore, of the more than 500 patients who joined my practice at birth, none have developed diabetes, just one has developed asthma, and only one family (of 3 children) has developed recurring ear infections."
These results are hugely encouraging.
As with cancer, autism may have more than one trigger. Dr. Mumper's study is small and includes too many variables to give us all the answers, but it's an important piece of the puzzle.  Dr, Berger's efforts add to the science regarding risk reduction and prevention.
Dr. Mumper's ongoing efforts, along with the continuing work by physicians like Dr. David Berger and others to implement protocols to eliminate autism in their practice, should lay the groundwork for a road map every obstetrician and pediatrician in America. A roadmap to follow when seeking to eliminate neurodevelopmental disorders in their patient's families.
The risk that your child will develop environmentally caused autism is real. Taking precautionary approaches to reduce risk to your child will help ensure you don't decide to do things differently after it's too late.
Articles to read:
Berger, David S. (2012) From Preconception to Infancy: Environmental and Nutritional Strategies for Lowering the Risk of Autism. White Paper from Dr. Berger's website: http://www.wholisticfamilycare.com/
Herbert, M. R. (2010). Contributions of the environment and environmentally vulnerable physiology to autism spectrum disorders. Current Opinion in Neurology, 23(2), 103–10. doi:10.1097/WCO.0b013e328336a01f
Institute of Medicine. (2008). Autism and the Environment: Challenges and Opportunities for Research (pp. 0–309).
Landrigan, P. J. (2010). What causes autism? Exploring the environmental contribution. Current Opinion in Pediatrics, 22(2), 219–25. doi:10.1097/MOP.0b013e328336eb9a
Pessah, I. N., Seegal, R. F., Lein, P. J., LaSalle, J., Yee, B. K., Van De Water, J., & Berman, R. F. (2008). Immunologic and neurodevelopmental susceptibilities of autism. Neurotoxicology, 29(3), 532–45. doi:10.1016/j.neuro.2008.02.006
There's an epic battle going on between good and evil. May the force be with beneficial bacteria!
Eric Uram is the Executive Director of SafeMinds, a non-profit advocacy group committed to removing harmful chemicals from the environment to protect our children's brains.