By Lyn Redwood, R.N., M.S.N., SafeMinds Vice-President and Co-Founder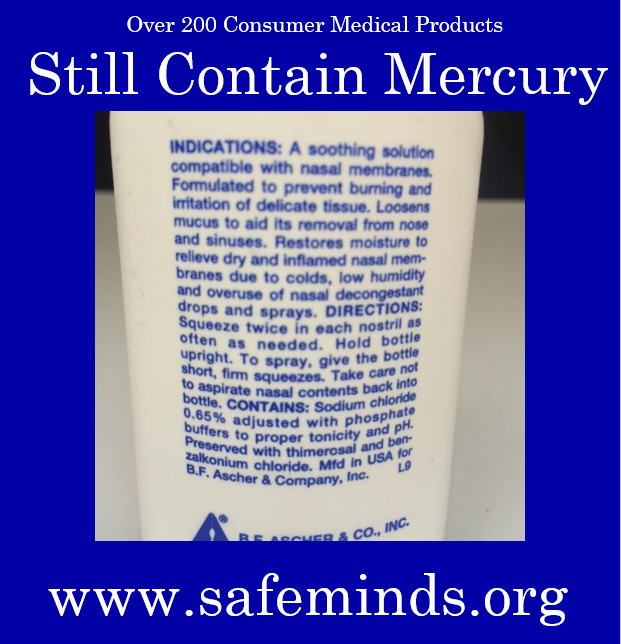 My friend Scott's ear was bothering him. It itched like crazy, and the inner ear had become red. It hurt more when he pulled on the ear lobe. Classic symptoms of swimmer's ear—an infection of the outer ear canal caused by moisture that remains in the ear after swimming—so his doctor prescribed antibiotic eardrops.
The prescription eardrops seemed to help his ear, but Scott started feeling ill in other ways. His stomach hurt, he started having episodes of painful diarrhea, and dizzy spells.
Scott looked at the ingredients in the eardrops his doctor had prescribed and realized why he was feeling so sick. The prescription eardrops contained a mercury-based preservative: thimerosal.
While most people have heard that thimerosal, which is approximately 50% mercury, was used in infant vaccines (and continues to be used in several vaccine preparations), most consumers have no idea that mercury continues to be a common ingredient in over 200 prescription and over-the-counter medications, including hemorrhoid relief ointments, nasal spray, eye drops, and injectable testosterone.
Scott is 6 ft 4″ and weighs 225 pounds.
If my friend Scott felt so sick after using prescription eardrops, imagine how much worse the reaction to mercury can be for infants, children, and young adults who are unwittingly prescribed medications containing mercury?
Mercury is poisonous and should be avoided in any form
Mercury in any form is poisonous to humans and other mammals. Mercury exposure can cause particular damage the brain, gastrointestinal tract, and kidneys. Humans can be harmed if they inhale mercury, ingest mercury (from fish, for example), are injected with mercury, or absorb mercury through their skin.
A potent and deadly neurotoxin, mercury is also used as a preservative. That's why it is added to consumer products: to give them a longer shelf-life and prevent the growth of bacteria and fungi.
But even if you are a savvy consumer and you read ingredient lists of the hair products, beauty products, and medications in your home, you may not see the word "mercury" listed among the ingredients.
If you see any of these names on an ingredient list, the item in your hand contains mercury.
Alternative names for mercury:
Thimersol
Phenylmercuric acetate (PMA)
Phenylmercuric nitrate (PMN)
Mercuric acetate (MA)
Mercuric nitrate (MN)
Merbromin (MB)
Mercuric oxide yellow (MOY)
When I had my son's baby hair tested for mercury exposure he was five years old and showing serious cognitive dysfunction. I had recently learned that the injections I had received during my pregnancy (because my blood type was RH negative and my husband's was RH positive) contained high levels of mercury from thimerosal, as did the majority of my son's early infant vaccines. I had read somewhere that hair was actually the best tissue for testing for mercury poisoning. We were in luck: I had saved a lock of hair from my son's first haircut at 20 months of age.
I am a registered nurse and my husband is an emergency room doctor. But neither of us was prepared for what came next: my son's hair mercury levels were fives times more than the highest level considered to be safe by the EPA.
Questions about the safety of thimerosal first surfaced in the mid 1970s. The FDA convened an expert panel to review thimerosal in the use in over-the-counter products and issued two separate reports in 1980 and 1982. These reports found that thimerosal was toxic, caused cell death, and—in some cases—was only as effective as water.
Despite these findings, it wasn't until 1998 that the FDA concluded that mercury compounds like thimerosal were not safe or effective as a preservative and should be removed from over-the-counter products. In 1999 the FDA recommended removing thimerosal from infant vaccines as a precautionary measure.
Good work, government. Well done, FDA. Children's health activists, environmentalists, doctors, nurses, and other health care workers, as well as parents and the general public who had been following the controversy, applauded these decisions by the FDA to protect consumer health.
"You're not going to believe this," a doctor at my husband's work (at one of the busiest emergency rooms in Georgia) stopped my husband in the hallway a few years later. He was holding over-the-counter nasal drops, the kind the pediatricians would recommend for newborns who were sniffling or having trouble breathing due to stuffy noses. The bottle boasted that the nose drops were "safe and effective" and "gentle." My husband's colleague then showed him the ingredient list. And there it was: thimerosal.
I called the FDA to find out how it could be possible that years after they had recommended removal of thimerosal from over-the-counter products infant nose drops still contained it.
I was told that as long as thimerosal is not listed as an "active" ingredient, it is still allowed. And, as you may or may not know, the use of mercury is also still allowed in prescription medications and in vaccines.
Mercury is bioaccumulative, which means that every time you are exposed to it, it has the potential to stay in your system.
It also means that each subsequent exposure you or your child has to mercury is more dangerous and more damaging.
It's 2014. It's time, already, to get mercury, in any form, out of consumer products.
Ask your doctor for the package inserts to any medication you are prescribed. Study the ingredient lists for over-the-counter medication before you buy it.
Be a savvy consumer. Think of my friend Scott—a decidedly big man—and how sick just a few drops of mercury-preserved medication made him.
Until the FDA starts doing a better job at protecting Americans from mercury poisoning, it's up to us to protect ourselves.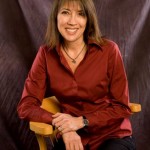 Lyn Redwood, R.N., M.S.N., is co-founder and board member of SafeMinds and the National Autism Association.
 Read more from Lyn Redwood, R.N.:
Why Slate Magazine is Out to Lunch
This Pregnant Mama Refused the Flu Vaccine … Find Out Why
American Kids are Sick, Blaming Their Parents is NOT the Answer