By Lyn Redwood, R.N., SafeMinds Founder and Vice President
The leaves on the trees in the woods near my house in Atlanta are starting to fade. Though it's still a thousand degrees and humid during the day, the nights are cooling off. Like Anne of Green Gables, I'm glad to live in a world where there are Octobers.
But October is also the beginning of the flu season. According to the CDC, flu activity usually peaks in the United States between December and February.
No one likes the flu. Who wants to have any of these signs and symptoms?
Fever
Cough
Sore throat
Runny nose
Muscle or body aches
Headaches
Exhaustion
I don't.
You don't.
And you especially don't if you're pregnant because pregnant women sometimes have more complications from influenza, especially if they get it during the last trimester of pregnancy.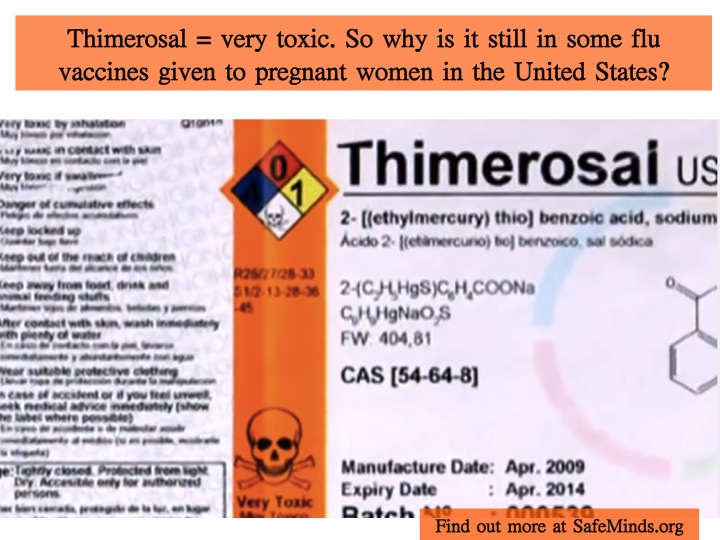 So if you are pregnant right now, chances are your doctor is insisting you get the flu vaccine.
And chances are your doctor is not talking to you about the different vaccines available, the toxic chemicals in the flu vaccines, or why other ways to boost your immune system may be safer for pregnant women than vaccines.
We asked some pregnant mamas on Facebook what their doctors told them about the flu vaccine. Here's what they shared:
"My OB tried talking me into getting the flu shot, told me if I didn't that my son would die. (He's a completely happy healthy 2-year-old now). He went as far as hounding me right up to the check-out window."
"Talked about it? Kind of. Fear mongered? Yes. My OB had a patient almost die of the flu this past year (although she admitted to the patient having other complications as well.) The risks versus benefits were never talked about, just that I should get it. So I ended up getting it twice. Once in Jan. when I first became pregnant, and then once again 2 weeks ago for the new strain of flu."
"My midwives always left it as a choice for me to make, but did point out that pregnant women are far more likely to be hospitalized if they get the flu than non-pregnant adults."
"At 19 weeks I was told I had to wait till I was 24 weeks to get it. Then they told me I had to get it now. I said, 'You told me it wasn't safe before 24 weeks.' The doctor said, 'Well, we have new information now and it's proven safer, and you're far enough along.'"
What Pregnant Women Need to Know About the Flu Vaccine
You may have caught Robert Kennedy, Jr. and Dr. Mark Hyman, M.D. talking about the harms of thimerosal (and their new book) on September 11, 2014 on Dr. Oz.
Though thimerosal (a mercury-derived preservative) was removed from most infant vaccinations in 1999 some flu vaccines STILL contain mercury in the form of ethylmercury from thimerosal. What is worse, injecting these vaccines into humans may result in blood levels exceeding the Environmental Protection Agency's recommended safe levels for mercury.
The FDA issued a statement warning pregnant women and young children not to eat fish containing high levels of methylmercury because of known links to neurological problems in children. Yet, the CDC recommends that these same women and young children get seasonal influenza vaccines. This just doesn't make sense!
This is what you need to know about the mercury in flu vaccines:
Mercury is a neurotoxin that rapidly crosses the placenta and accumulates in the fetus at even higher levels than the mother. Mercury is known to be highly toxic to brain tissue and can impact critical stages of brain development during pregnancy.
Scientific studies have documented that the mercury used in vaccines enters into the brain and rapidly converts to a form of mercury that is difficult to detoxify and capable of interrupting critical stages of brain development.
Thimerosal-containing flu vaccines contain 250 times the mercury level the EPA uses to classify hazardous waste. Unused thimerosal-containing flu vaccine with mercury should be returned to the manufacturer for appropriate disposal as hazardous waste.
The dangers of the flu to pregnant women and the benefits of flu vaccination may both be exaggerated since many of the studies are conducted or funded by vaccine manufacturers. One of the largest scientific studies to date, of approximately 50,000 pregnant women over five flu seasons, found no difference in the risk for developing influenza illness among those who received the influenza vaccine during pregnancy and those who did not.
According to flu vaccine package inserts, "Safety and effectiveness has not been established in pregnant women or nursing mothers and should only be given to a pregnant woman if clearly needed."
What about flu vaccines that don't contain mercury?
A growing fetus, especially during the first trimester, is at its most vulnerable stage of life. American medical history is sadly full of examples of doctors harming pregnant women's babies by exposing them to toxins while assuring them that the exposure was "safe" or that there was "no proof it was harmful."
One quick example: Pregnant women were routinely given diethylstilbestrol (DES)—a synthetic estrogen thought to improve pregnancy outcomes. Years later doctors discovered, to their horror, that girls born to mothers who had been given DES were at 40 times greater risk, after puberty, of getting a deadly cancer of the cervix and vaginal.
A recent study of over 1.2 million pregnant women found elevations in an inflammatory marker (C-reactive protein) were associated with the later development of autism in the offspring. In another study elevations of this same inflammatory marker were found to occur after pregnant women received flu vaccines. This inflammatory response was even more prolonged in women who had a history of depression.  View these research abstracts here.
Most flu vaccines are considered Class C drugs by pharmaceutical companies, which means they have not been sufficiently tested for safety during pregnancy (and, if we follow the precautionary principle, should be considered unsafe).
All vaccines pose some risk, with or without mercury, but the flu vaccine seems to be particularly problematic.
According to the National Vaccine Injury Compensation Program report, United States Court of Federal Claims, from May 16, 2013 to Aug. 15, 2013, over half the claims compensated were for flu vaccine adverse events:
Guillain-Barré Syndrome, myelopathy and radiculopathy; psoriasis and psoriatic arthritis; chronic inflammatory demyelinating polyneuropathy; skin rash, fatigue, and scarring; brachial neuritis; shoulder injury related to vaccine administration, autoimmune demyelinating condition, bursitis, Bell's palsy and urticaria/angioedema; bilateral brachial neuritis; meningoencephalitis and optic neuritis; transverse myelitis, serum sickness and pain amplification syndrome of childhood/fibromyalgia; acute disseminated encephalomyelitis; rheumatoid arthritis; significant aggravation of an underlying COPD and other pulmonary conditions, and death.
Ask your doctor to see the package insert. Read the ingredients in the vaccine and the list of side effects published by the manufacturer. You can also download the ingredient list of each vaccine from the CDC. Click here to download a chart listing vaccines available for the 2014-15 flu season and their thimerosal content.
These two flu vaccines contain the following ingredients:
Influenza (Fluzone: Standard, High-Dose, & Intradermal): formaldehyde, octylphenol ethoxylate (Triton X-100), gelatin (standard trivalent formulation only), thimerosal (multi-dose vial only), egg protein, phosphate buffers, sucrose
Influenza (FluMist): ethylene diamine tetraacetic acid (EDTA), monosodium glutamate, hydrolyzed porcine gelatin, arginine, sucrose, dibasic potassium phosphate, monobasic potassium phosphate, gentamicin sulfate, egg protein
Doctors reassured pregnant women DES was safe. Doctors reassured pregnant women X-rays were safe. We may very well discover years from now that giving pregnant women vaccines causes harm to their offspring later in life.
If you don't want to take that risk and you don't want to expose your growing fetus to these toxins, tell your doctor, "No, thank you."
That's what one pregnant mom I know did. Her father-in-law called her in a panic about the flu. She saw scary images of people wearing face masks to avoid the flu on TV and the internet. Her doctor insisted she get the vaccine. She was avoiding taking any drugs during pregnancy. She wanted a healthy baby. So she said, "No, thank you."
Staying healthy and happy without the flu vaccine if you're pregnant during the flu season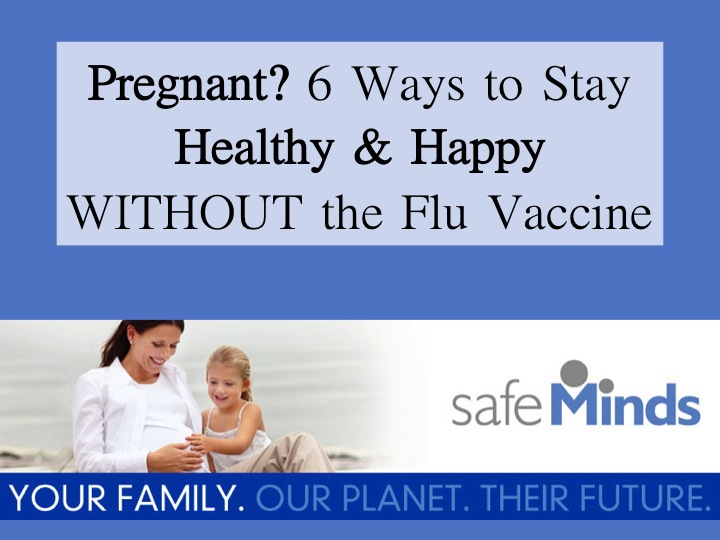 1. The number one way to prevent the flu is pretty unsexy: wash your hands (and make sure everyone around you washes their hands too). Take your time, use soap. Think of all the good your hands will be doing in the world as you wash them.
2. Avoid people who are sick: Ask friends and family who aren't feeling well to wait until they feel better before visiting you. If your co-workers aren't feeling well but are coming to work, wear a face mask to protect yourself from inhaling their germs.
3. Get enough sleep: Never an easy feat when you're pregnant. Even if you can't sleep, let yourself rest. The more rested you are, the easier it is for your body to fight infections.
4. Food is your best medicine: Start your day with immune-boosting warm turmeric milk or other wholesome teas (note that turmeric supplements are not recommended during pregnancy). Eat plenty of fresh fruits and vegetables all day long, high quality protein, nuts, and other whole foods. Avoid sugar, which compromises your immune system.
5. Reduce stress: Stress also compromises your immune system making you more vulnerable to diseases of all kinds (plus it's bad for the baby). Practice breathing techniques, take a moms-to-be yoga class, and find a friend to confide your worries to. Regular exercise (which you need anyway), enough sleep (see #3), and lovemaking also help reduce stress.
6. Go outside: Your skin needs regular exposure to sunlight in order to synthesize vitamin D and some studies have shown that vitamin D supplementation decreases flu risk. We recommend sunshine over synthetics. It's harder in the winter but try to get at least 20 minutes of direct sunshine on your skin every day (more if you are African-American).
For more information about the flu vaccine during pregnancy, watch this video from SafeMinds Medical Advisor Cindy Schneider, M.D.
Click here for more information and a downloadable brochure about pregnancy and the flu vaccine.
More from Lyn Redwood:
Why Slate Magazine is Out to Lunch
Vaccine Opt-Out and the Failure of the American Media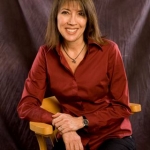 Lyn Redwood is co-founder of SafeMinds, a non-profit organization dedicated to justice, accountability, and integrity in science and public policy.