By Katie Weisman, for the SafeMinds Government Affairs Committee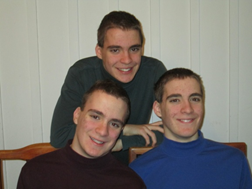 I've lived in "autism land" now for over 14 years with 3 wonderful boys.  I love my children more than my life, but I cannot say that it has been an easy road and I wonder how much less they would have to work and struggle if autism didn't affect them the way it does.  Would they have girlfriends and be driving already?  Would they be able to write a paragraph independently?  Would they have part-time jobs and be saving for college?  I have long since given up trying to predict where they will end up and I am beyond grateful for how far they have come, from being completely non-verbal at 4, but I will never give up fighting to get back what was taken from them and right now is one of those opportunities.   They, and all of the other kids and adults with autism, deserve real help and real action.
I am asking all of you who have ever fought for your kids to help and take action. 
 CAA
The Combating Autism Act is up for Reauthorization by the end of September.  SafeMinds is part of a coalition of groups advocating for substantive change in the bill.  We are calling ourselves the Autism Policy Reform Coalition (APRC) and we represent over 100,000 families nationwide.  You can read about our member groups and our policy recommendations on our brand new website: http://www.autismpolicy.org/
In a nutshell, we are working for the following in the bill:
1) A two-office model of autism policy coordination – one for research and one for working with all the other federal agencies.  We truly need new leadership from the top down.  I want this legislation to ensure that there is at least one person with whom the "buck stops"; just one person who wakes up every morning and says, "My job is to help people with autism lead better lives."
Right now, the IACC, which is "in charge" of federal coordination is not functioning.  It holds a handful of meetings a year, it has no authority to actually allocate any funds, and it does not have the resources to implement anything.  This is a video from the end of the July 2013 IACC meeting in which members (mostly public) express their frustration with how things are going:
2) More community input into the research that gets funded so that the priorities shift away from basic research towards studies that will help people.  Treatment, best-practice, environmental causation and prevention are all grossly underfunded.  As an example, in the last 5 years reported, $169.8 million dollars has been spent trying to find genes for autism, while only $9.6 million was spent on studies of interventions to help non-verbal individuals speak/communicate.  I do not believe that this represents the priorities of individuals with autism or their families.
http://iacc.hhs.gov/strategic-plan/2013/IACC_2013_Strategic_Plan.pdf
More broadly, identifying some of the environmental risk factors for autism has greater potential payoff than the genetic studies.  They are, by definition, things we can change to reduce the risk of autism or mitigate its severity.  Environmental factors also have the possibility of leading to treatment in much shorter timeframes than genes will lead to the development of drugs.  Take a look at the top two objectives on page 43 of the above report.  They are a good example of the imbalance of funding priorities at the NIH; the genetic studies have been funded at 5 times the recommended level and the environmental studies have been funded at about 20% of the recommended level – over the past 5 years.  Can we really afford 5 more years of the same old, same old?
3) Creation of a medical model for autism so that the co-occurring conditions (immunological problems, seizures, sleep problems, GI problems, anxiety and metabolic problems to name a few) get the proper recognition and treatment.  We need professionals who recognize these issues, know how to treat them and don't just write them off as "behaviors."
4) Better epidemiology.  If you think we are getting accurate prevalence, useful data or any real action in this area, read the reports that SafeMinds wrote last month which are still on our homepage:
5) Serious action on safety.  Kids are wandering and dying.  Families are at their wits' end trying to keep their kids safe.  People with ASD are being bullied, abused, restrained, arrested with no understanding of why and the list goes on.  We need a federal level coordination of agencies to address these issues, training for first responders, standards for schools and education in our legal systems.
Donate to help the APRC
I am asking you all to chip in to this coalition at whatever level you can financially.  If you can afford $10, then please donate $10.  If you can give more, please do.  I can't guarantee we will get all that we are asking for in this bill, but I can guarantee that it won't be for lack of effort and that your money won't be wasted on anything not directly impacting getting this job done.  My husband, Doug, and I have chipped in $2000; that is how strongly we feel about this work.  We do truly understand what families go through, but we also know that it might be 5 years before we have another shot at fixing things at the federal level.  Our boys will be 21 then and you all know what that means…   Here's the link: http://www.autismpolicy.net/donate
 Last But Not Least – Give Your Child a Voice
Pick up the phone and call your Representatives and Senators.  If the CDC is correct, there are 1.2 million families with affected children in the country.  That is a lot of phone calls.  Tell them what your family needs.  Tell them you support the APRC principles and that you expect them to work for a better bill.  Tell them that 5 more years of the status quo is not going to help.  In Washington, trust me, only the "squeaky wheels" get the grease.  I know that you are exhausted, strapped for time and overloaded (been there), but if they never hear from you, they don't know you exist.  Consider it a chance to make a better future for all of our children and the adults that they will become.
And stay tuned for how things develop…
Thanks for helping,
Katie